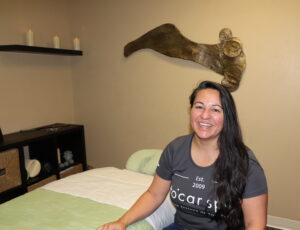 Tracy has been a licensed massage therapist since 2004. She recently moved to the Baltimore/ Washington area in 2017 and joined the Tocar Spa team in April. Tracy is originally from Montana but has lived in many other states including Arizona, Alaska, and Iowa. Tracy is a certified Reiki Master. She is also trained in Swedish, Deep Tissue, Reflexology, Hot Stone, Sports, and Trigger Point massage. She looks forward to bring a positive energy and compassion to each of her sessions.
"In all honesty, I never thought I would like it out here but I must say – Maryland has a beauty of its own and I was pleasantly surprised how much I like it. Although I do laugh at the snow days. In Alaska, there is no such thing!"
Tracy has been a certified member of ABMP (Associated Bodywork & Massage Professionals) since 2003.